To the south of the community we have a beautiful oak grove and
the youth of Amalurra
we have decided to take a look at it and prepare it for enjoyment. We believe that it can be a beautiful place to walk and activate our senses.
Last Saturday, we got together, as always, for the auzolan or a day of community work, and we decided to dedicate the morning to cleaning the land to start getting to know it and make it an attractive space to enjoy its ancient oaks and beech trees, the sound of the river that surrounds them, the language of the landscape and the calm that transmits.
Rain predictions were high, but as we have experienced on other occasions, when we come together with a purpose and we put ourselves into action …, there is no one to stop us!
And so it happened. The first thing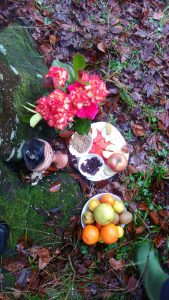 And we did, as we have learned from our families and from some of the oldest indigenous cultures that have passed through Amalurra, we asked permission from the Earth and the place, we "sowed" our intention, we honored it with offerings (flowers, water, some food,…) and we got to it.
The morning was fantastic, the rain did not appear until lunchtime, we enjoyed the invisible gifts that we always receive from Mother Earth when we approach her. And above all we enjoy being together, working as a team, collaborating with each other for a common goal.
The youth of Amalurra