We thank all the people who have made this event possible, which arose as
a heartbeat
of the
three Amalurra communities
to awaken to collective action, away from complaint, apathy or resignation.
Thanks to the two organizations for their testimony, infrastructure and presence: REFuGEN (Ana) and CEAR Euskadi (Javier) .
To the guest artists who generously delighted us with their art: Ferrara and Andrea Goikolea .
To the Amalurra restaurant They prepared a tasting dinner without skimping on details.
To Notikumi platform who gave up his commission on selling tickets online.
And of course to all the people who participated one way or another of the event: those who attended the concert and those who bought the tickets row "0" .
Participation and collection data:
86 people attended the concert although we sold 104 entries , 18 of them with row "0".
Raised money:
– € 1,548.75 of the concert tickets (discounted bank charges of € 11.25)
– € 685 of donations in the piggy bank (which includes the € 270 they raised at the Santa Lucía fair Amalurra Community of Barcelona ).
– € 180 coming from pintxos and drinks on Saturday night in the Amalurra Cafeteria .
– € 453 from the solidarity dinner on Saturday 19 by the R Estaurante Amalurra .
Total collection: € 2,866.75 to be distributed between the two mentioned organizations.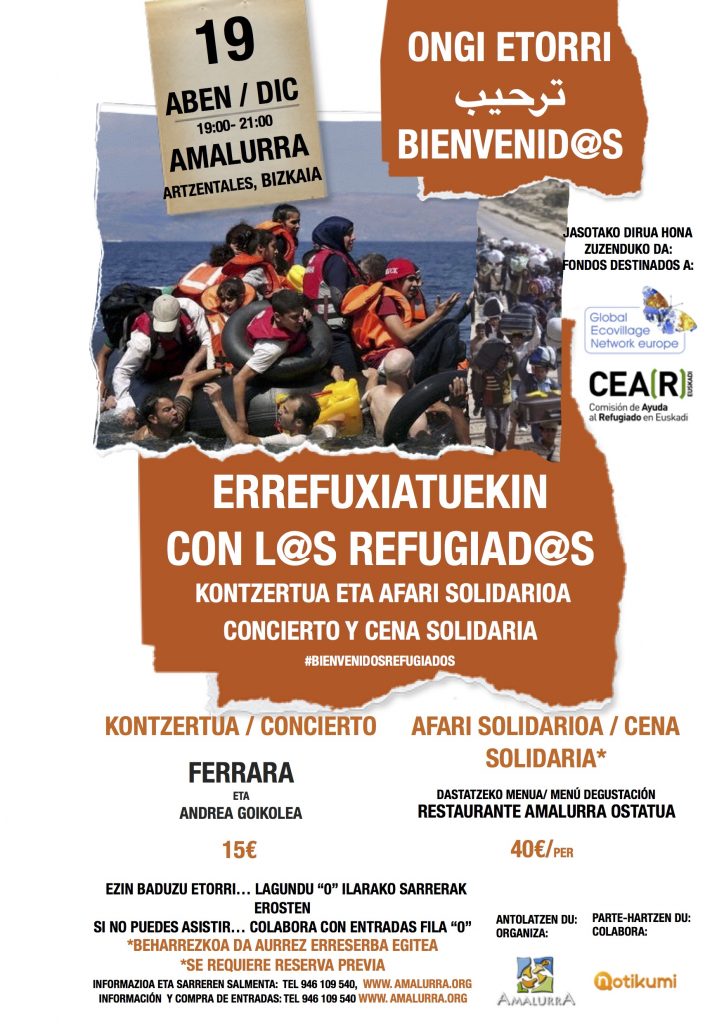 IMPORTANT: THE LINK ON THE PLATFORM OF
NOTIKUMI
IT WILL REMAIN OPEN UNTIL SUNDAY, DECEMBER 27,
LET'S TRY TO GET TO COLLECT 3000 € . ENCOURAGE FOR AND "WITH THE REFUGEES"