The next
October 2nd,
a group of men and women from
Amalurra
We will participate in Mexico City from
5th Olmec Ritual
, a sacred walk that goes from the
Tlatelolco Square
until the
Plinth,
to commemorate the anniversary of the massacre that took place in this square in 1968, within a social and youth movement that demanded freedom, but in which another more invisible movement also underlay, that of the awakening of conscience, led by
Regina
, a young Mexican whose legacy lasts to this day with this tribute march that is celebrated whenever the
October 2nd
it coincides on Sunday, among other things.
Regina , led this movement by bringing together key people in Mexico and founded the women's circles that today continue to gather in her honor and memory. You can taste all this historical history in the novel written by Antonio Velasco Pineapple and that is titled; Regina, October 2 is not forgotten. Velasco Piña, this Mexican scholar and writer, had the mission of being a witness to what happened and guardian of this memory.
And … what does Amalurra have to do with this episode in the history of Mexico? The case was that Irene Goikolea , founder of the Amalurra community, received, during a trip to Mexico in 1992, the fire of Regina from the hands of the Regina women's circle and Velasco Piña himself, a fire that symbolizes the awakening of female consciousness.
And with this gift he returned home with the task of initiating these types of circles in our land, with the same objective: the awakening of the sacred feminine. In fact, these circles are the origin of the Amalurra project and community, a seed that contains the heritage and this history from the other side of the ocean.
Since then, in 1997, 2006, 2011 and this year, we have attended this commemorative event to honor our origins and remember the objectives that set us in motion. We are, of course, grateful to Irene who brought us this legacy and who has known how to maintain it with the same enthusiasm as when she began and transmit it to all of us, who already feel part of this shared commitment: to contribute to the awakening of consciousness together with hundreds and thousands of people, movements and gestures that are multiplying all over the planet.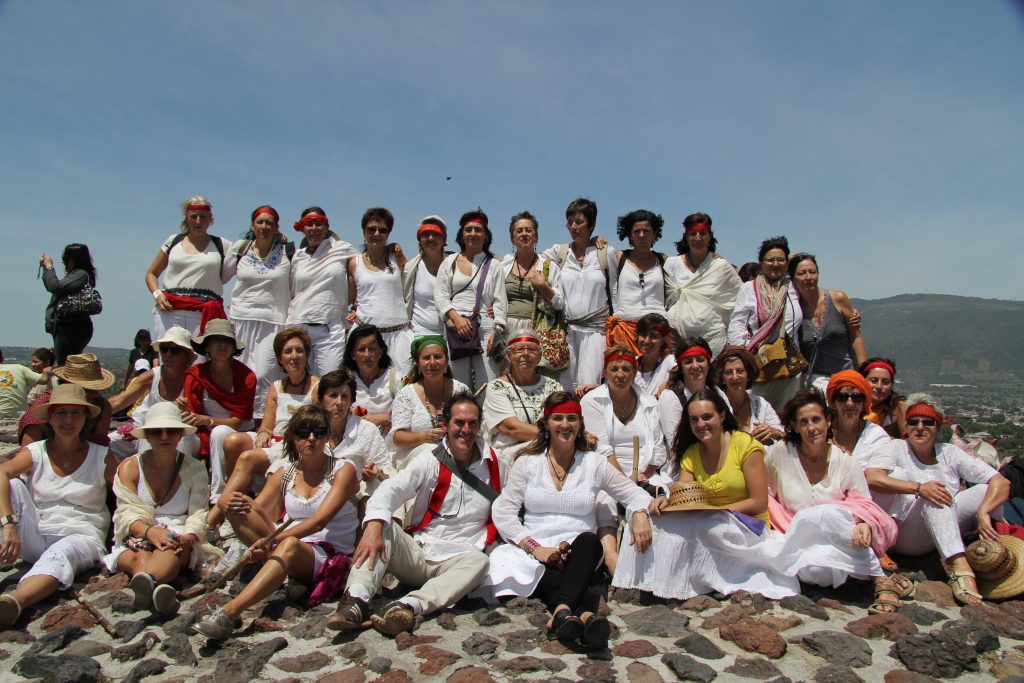 Women's trip 2011 at the La Luna pyramid, Teotihuacan.